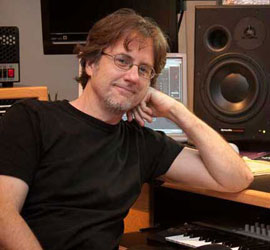 Ken is a Michigan native who grew up in Kalamazoo. After studying classical guitar at Wayne State University in Detroit and earning a Bachelor of Music in Studio and Jazz from University of Miami, he moved to Los Angeles to pursue a career with the guitar. Band and session work led to 5 years of touring with Barry Manilow in the '90s.
While working as a studio guitarist for Dave Vanacore, Dave gave him the opportunity to discover a passion for writing to picture, starting with scripted shows, such as Renegade, Silk Stalkings, and documentaries like Behind the Music; then helping Dave to usher in the beginning of reality TV, i.e. Survivor, Temptation Island, Joe Millionaire.
Dave has kept Ken busy ever since. Just a few recent highlights have been working on Trading Spouses, Undercover Boss, Stars Earn Stripes, Wipeout, and writing the themes to Big Brother and Jerry Seinfelds' Marriage Ref. He has also managed to fit in writing for a few independent films/documentaries.
In 2001 Ken worked in the studio as guitarist on Barry Manilow's "Here at the Mayflower" album,  also using him to arrange and produce as well as play on three of his next albums for Arista, which included orchestral conducting at Bill Schnee Studio and Capitol Studios.
Ken lives in Burbank with his wife and daughter; and you can still catch him playing guitar around town.